In short Roes, Amsterdam 1945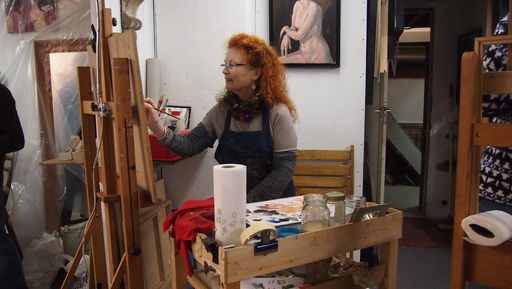 Welcome on my site
This is about my paintings, drawings, etchings. For the theater side there is another site: www.maroesja-lacunes.com
Education
Apart from a short period at the Rijksnormaalschool, school for art-teachers, my education consists of private lessons, courses, self study and practice.
About me
Instead of an art-teacher I became an actress. By periods I continued drawing and made theater props, masks, decor pieces for our own productions. After the turn of the millennium I gradually took up painting. I organized open life-drawing sessions and moved in 20106 into my atelier in the Witte de Withstraat in Amsterdam. There I join the foundation Ateliers and gallery De Stoker. More about me in my blog – in Dutch and on Facebook: www.facebook.com/maroesjalacunes
Work
I work figuratively in oil paint, watercolour, and with drawing materials. After life model, nature and still-life. Since a couple of years I find great pleasure in graphics. In etching I follow themes as Never too old to dance, Memories - often after old drawings - and village views. There are regularly exhibitions in De Stoker's gallery in which I participate and every now and then elsewhere.